ROAMING AMERICA with RICH & DIANE EMOND
---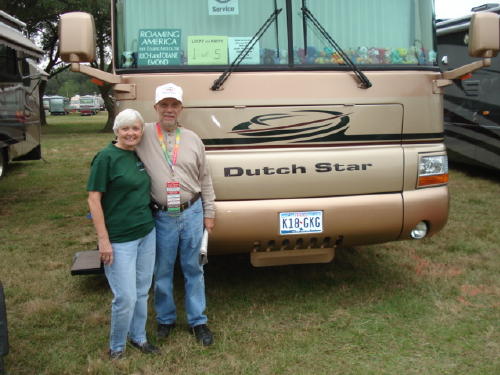 Welcome to our web site. We were RVers during the early 80s but drifted away when all four of our kids were playing sports all year and mostly on weekends. However, we knew we would someday re-join the RV community and we never lost site of that dream. As time passed, the kids grew up and we eventually became empty nesters. Then our dream became a goal. We lived in the Atlanta area from 1982 to 2000 and went to the Atlanta RV Show almost every year to keep that goal alive. In 1995, we decided to put a date to the goal and we targeted summer of 2000 as the time we would retire and buy a motorhome. At that time, we started a 5-year countdown to July 2000. We also increased our research activities for selecting the motorhome and determining just which type of RV lifestyle we wanted to experience (e.g., full-time, part-time, extended travel).
Our research included reading several books on the RV lifestyle, as well as monitoring several RV web sites. The most helpful books to us during our research phase were the two books written by Ron & Barb Hofmeister, as well as their web site. About 2 1/2 years after we started our countdown, we found the RVAMERICA bulletin (BB) on the RVAMERICA web site. This BB was invaluable to us in obtaining answers to the many questions we had about the lifestyle and technical matters related to RVing. Finally, we joined the RV Consumer Group (RVCG) and learned much about motorhome weights and balance.
So when Rich retired from IBM on February 1, 2000, it was time to implement our plan to full-time. Our research lead us to select a 2000 Newmar Dutch Star diesel pusher as our new home on wheels. We bought our motorhome from Damon Rapozo at Shorewood RV in Anoka, MN on March 23 and picked it up at the Newmar factory in Nappanee, IN on May 17. We could have gotten some airline tickets to the South Bend Regional Airport which was close by, but instead chose to take the CR-V there.
After much discussion, we decided that we would full-time. It didn't start out that way. At first, we were going to move to a smaller house and do extended travel for five or six months a year. However, as we were doing our research, we kind of evolved into full-timing. The biggest part of that decision were the questions "why do we want to maintain two 'houses? Why don't we just full-time for a couple of years and see how it goes and then decide?". So that's what we did. And we did it for 13 years. We had been wintering in Port St Lucie, FL for several years and decided in 2013 to buy a villa as a home base. We also decided to keep the motorhome and spend six months, or so, on the road. So far that is what we have been doing. We loved the fulltiming RV lifestyle but thought it was time to buy a permanent residence. The longer we are in the villa the more we get the urge to get back on the road. The longer we are on the road the more we get the urge to get back home. It's the best of both worlds for us.
Although our primary purpose in creating this web site was to allow family and friends to track our travels, we hope that all who find the site enjoy our stories. We hope you will follow us on our adventures as we travel around this beautiful country of ours, as well as Canada and Mexico. Our plan is to write periodic travelogues and add other items on the site that we think may be of interest. So come on in, visit our home, and travel along with us.

us at "rich_emond-at-yahoo-dot-com"
updated 10/17/08


---